Introducing Bbirbiciù (Pantelleria, Sicily)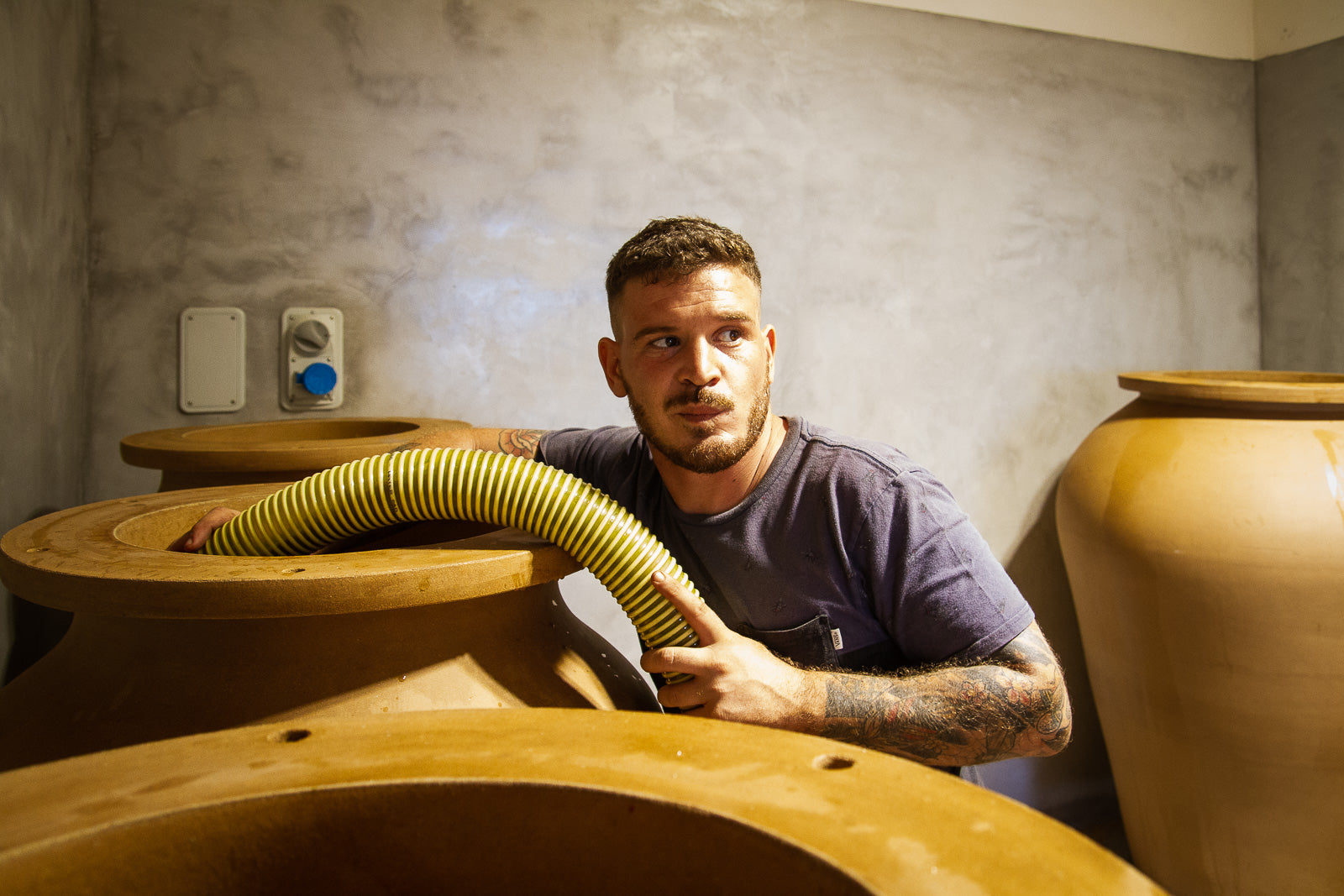 We've long been fascinated by the wines of Sicily, particularly those from its lesser-travelled outposts. We're now so pleased to introduce Bbirbiciù, an exciting new producer on the remote volcanic island of Pantelleria, who are doing magical things with local white grape Zibibbo.
Established in 2020, Bbirbiciù is the project of a trio of young growers, led by Davide Genovese, who are looking deep into the past for their inspiration. Based on the remote, windswept volcanic island of Pantelleria, south of Sicily (in fact closer to Tunisia), the group are seeking to revive and preserve the ancient ways of the vignaioli of old, both in the respectful way the vines are tended and the hands-off methods used to vinify the fruit in the cantina.
Their 3.5 hectare surface sits between 2-300m altitude on the plain of Bukkuram, the land that rolls off the base of Montagna Grande in the center of the island; historically the most fertile and productive agricultural land to be found here. 80% of the planting is Zibibbo, the highly aromatic Sicilian strain of Muscat of Alexandria, with the remaining 20% given over to Catarratto and Pignatello. They are all head-trained bush vines at around 60 years old; a traditional method of viticulture that, paired with the cover provided by the shadow of the mountain, protects from the year-round bluster of the Sirocco wind and the blistering heat of the Mediterranean sun. They sit over a deep, mineral-rich volcanic bed, with a topsoil of sandy, decomposed lava rock. This land has never seen chemical herbicides or pesticides; in the past it was farmed organically, now Davide has begun to introduce biodynamic principles and even treatment of copper is only deployed when absolutely necessary.
Vinifications take place completely in amphora; a series of these clay vessels sized between 320-1600 litres are buried in a 40 square meter 'amphoraia' amongst the vines. The grapes are de-stemmed and, channeling the heat of the earth, conditions are correct to cause a spontaneous fermentation within these sealed pots, where the resulting wine rests for between 6 and 8 months before racking and then bottling in the spring, with no additions at all.
The results are wild, vivid expressions that offer a unique taste of both a land and time far, far away. Heady with musky aromatics of wild herbs, spice and salty ocean surf, complex and multilayered in texture and with an irresistible vitality. When we talk about that elusive 'sense of place' in wine it is hard to think of a better example; Bbirbiciù is all about the translation of this singular landscape, intervening only as much as is required to capture its essence and put it in the glass.