Our next winemaker visit at the shop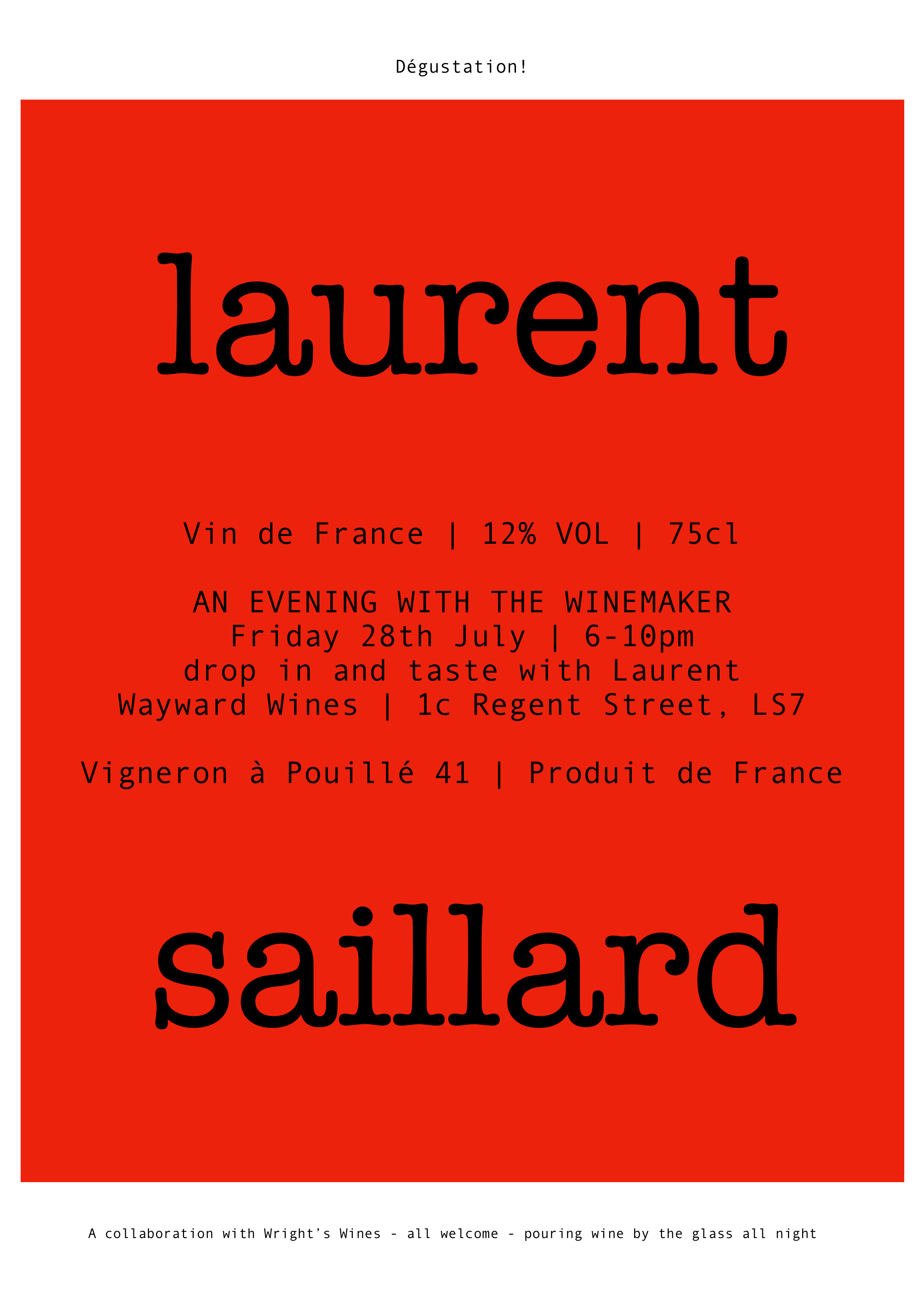 It's like a revolving door of Loire-based winemakers here in Leeds at the moment. After bidding adieu to Mikaël Bouges following a barnstorming warehouse party over the weekend, next Friday we welcome none other that Laurent Saillard to the shop for our next dégustation. Along with his UK importer, our old friend Joel of Wright's Wines, Laurent will be spending the evening with us on July 28th to pour a selection of his latest releases from the 2022 vintage. We warmly invite you to join us!

Laurent represents the new wave of wine coming out of this Middle Loire region, Touraine. After a long stint working in New York (first introducing natural wines to the list at the notorious SoHo brasserie, Balthazar, then opening up his own place) he returned to France after deciding the time had come to make wine himself. Becoming friendly with many producers in the Loire after repeat visits to the annual alternative wine fairs, Laurent wound up working for Noëlla Morantin (one of the growers from the region that we import ourselves), before finding himself in the most fortunate position of being able to take over the iconic Touraine estate Clos Roche Blanche from 
Catherine Roussel and Didier Barrouillet who had pioneered organic and biodynamic vineyard work there since the 80s. Teaming up with fellow vigneron Julien Pineau to divide the land, he did just that. 
The resulting wines are clean and characterful, often with a cleansing acidity that speaks of limestone soils, but with a texture and level of ripeness that we feels sets them apart from the more classical style. His well-known cuvées such as Sauvignon/Chardonnay blend 'Lucky You!' have an almost tropical lilt to their mouth-watering fruit, and reds made with thinner-skinned grapes like Gamay & Pineau d'Aunis can be beautifully perfumed, but with a robust depth. He does not work under the Touraine AOC; like many, he prefers the freedom of the 'Vin de France' denomination to make wines as he chooses. Much like his striking bottle labels (that we have pastiched for this poster), the wines are bold, distinctive and make an impression.
It's always a real privilege to have the person who makes the wine join us at the shop. We hope you'll enjoy seizing the opportunity to meet Laurent and taste his wine, whether you're a long-time fan or a first-timer. As ever, the tasting is free to attend - drop in any time to sample the wines and then stick around for a few drinks or take a bottle or two home.

Friday 28th July at the Chapel Allerton shop from 6-10pm. Hope you can make it!