The Latest Releases from Anders Frederik Steen & Anne Bruun Blauert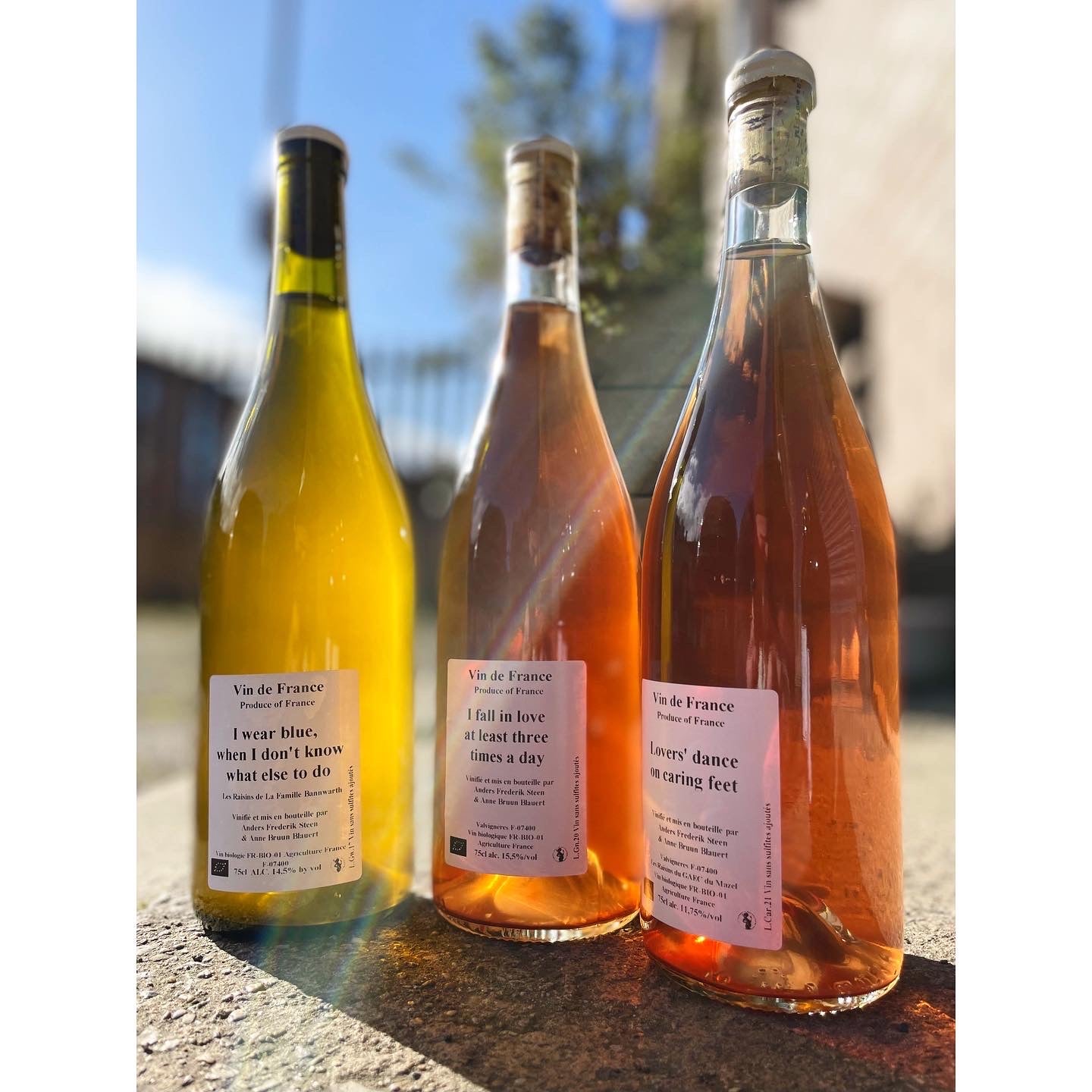 We're excited to share the latest clutch of releases from
Anders Frederik Steen and Anne Bruun Blauert
, two Danes who have made quite a name for themselves after departing the restaurant scene of Copenhagen to make wine in the Ardèche.
As many of you will know, the demand for these unique wines is huge and annual production is small - there is never a great deal to go around, making them highly prized. So this time we are over the moon to be able to offer
6 different new cuvées
spanning vintages from 2017 to 2021.
For those who aren't so familiar, the philosophy here is quite radical - every wine is made utilising a different style, method or technique, and no wine is repeated, ever. This means that their now well-recognised minimalist back-label-as-front-label stickers bear different, often lyrical names for the wines chosen for release each year. Some wines are younger and have a shorter élevage, some are ongoing concerns, given all the time they need before bottling as the direction they are taking is pondered over the passing years. It's about as experimental a statement as one can make in winemaking and results in no shortage of surprise and intrigue.
As with previous years, the majority of the wines are made using organic grapes grown by
Gérald Oustric of Le Mazel
in Valvignères, a real linchpin of the southerly Ardèche scene and one of the producers we bring to the UK ourselves as
Wayward Imports
. Some are made using fruit from Laurent Bannwarth in the Alsace and one wine,
I Fall In Love At Least Three Times A Day
, comes from their own small domaine in Valgrand, close to their home.
Of course the wines follow a strict ethos of nothing added, nothing taken away. All six are
available to order now
, and they'll be on the shelves of
our Leeds shop
when we reopen on Thursday, if you'd like to bag a bottle or two in person.
We don't expect them to hang around too long!